Adding a Facility and an Introduction to Facility Editing
To Add or Edit a Facility, click Add/Edit My Facility in the toolbar.
Enter your name and email when requested. Optionally you can add your Institution as well.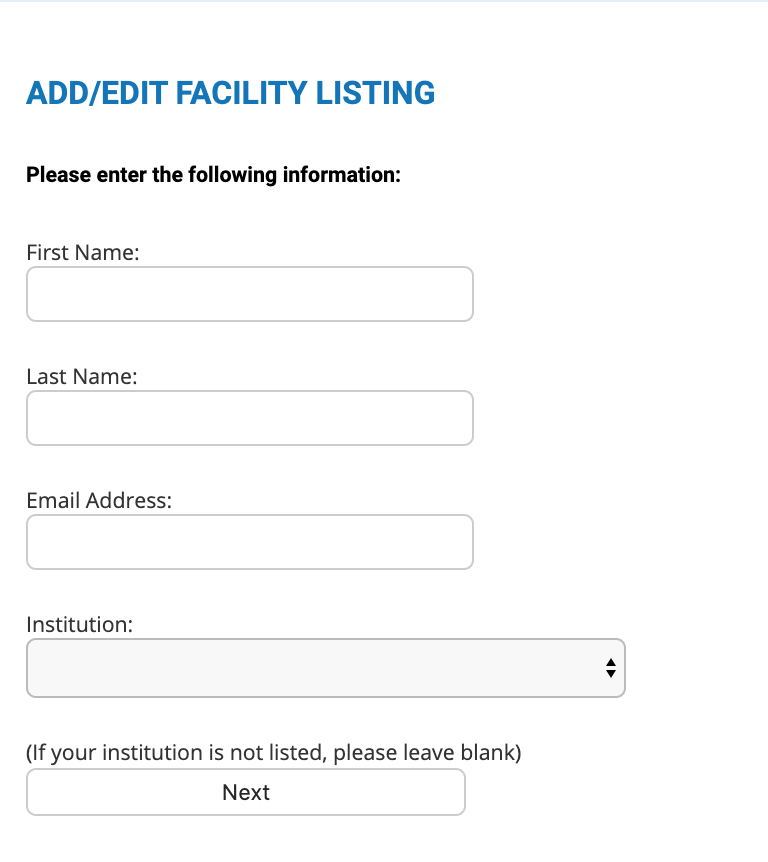 Click Next
If you are already listed as a contact in an existing facility, it will be shown. This is to prevent duplicate entries. If you have already begun a new listing but did not finish it, you might see this as NEW LISTING. If you see this or see your facility listed, select it and click Next.


If you do not see your facility listed, click "Create New".

An email will be sent to your email address containing an edit link. This link will only work for 48 hours.
When you receive the link, click it to be taken to your edit page.
There are six sections to fill out when listing your core facility.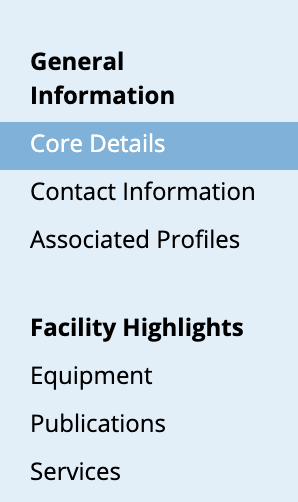 Core Details
Enter a Facility Type that applies your core's capabilities
Enter your Institution. If your core is part of a private enterprise, enter "Private Company"
Enter your Facility Name. To ensure your facility name is unique we recommend prefacing your name with the initials of your institution. For example: UVM-Genomics Core
Enter a description. This will introduce your facility in your own words.
Contact Information
Enter the address and phone numbers of your facility.
By default, the name and email used to begin the core listing is used as the Primary Contact Email. If you change this to someone else, be sure you include your email as the Editing Contact (under Associated Profiles) before submitting, otherwise you will be locked out of editing this listing.
Enter your facilities website. Make certain this web address leads to your facility's web site, as this is one of the factors used to assign your facility an RRID. See "What is an RRID?"
If you use iLab or another LIMS like program for requests and submissions to your core, enter that url. If you don't use such a service you can leave this blank.
If you wish to create a user friendly quick link to your core's listing, enter a value. Do not use spaces or punctuation marks. The quick link will begin with

https://coremarketplace.org

and list your entry after that. Example:

https://coremarketplace.org/UVMGenomicsCore
Associated Profiles
Every associated profile will receive quarterly email updates and any requested edit link unless you deactivate that address. The edit links contained in the quarterly email updates will allow access to your facility statistics, so Directors can be appraised of your CoreMarketplace metrics. Enter core directors as needed.
The Facility Email can be a general email account that multiple people check. It will be included with any email inquiry to your facility as well as regular quarterly updates.
The Editing Contact and Outreach Contact emails are useful if a particular role is assigned to update multiple cores' information. That email can be used here to receive edit links.
Equipment
Enter your facility equipment. The auto-complete list matches against the USEDit equipment list to aid identifying instrumentation. See also "Adding Equipment."
Once you have selected your equipment, click the "Add Instrument" button. This will add an entry for this equipment below.
If you no longer use an instrument, you can click Remove beside that instrument entry. This will mark it as deactivated. IMPORTANT: because all equipment has an RRID attached to it, and RRIDs are citable links, any equipment you remove will still be listed when the RRID-citation link is clicked, but will be marked as "Deactivated". Removed equipment will not be listed on your public-facing facility page and will not show up in search results.
Publications
Here you can select any publications that cite your facility. This is useful by PIs when researching your facility's capabilities. For more, see "Adding and Removing Publications"
Services
Check all the services your facility provides.
If you do not see a service, you can add it at the bottom.
Other Information in the Edit Page
Associations
Check which scientific Associations with which you are affiliated. If you don't see an organization listed, click the "Contact" link at the bottom of the page and let us know.
RRIDs and Identifiers
Here is where you will list RRIDs and other identifiers for your facility such as grant numbers. RRIDs are automatically assigned. You will not be able to edit this. See "What is an RRID?"
Listing Metrics and Marketplace Metrics
Nothing to enter here. This is where you can view the metrics for your core as well as the entire CoreMarketplace at large. You can find commonly searched terms and other useful data.
Listing Settings
If you wish to have all the data we keep about your core facility emailed to you, you can request that here.
If you wish to delete your facility listing, you can do that here as well. IMPORTANT: if your facility has an RRID assigned to it, the facility information will still be available in RRID-cited links, but it will be marked as "Inactive." (See "What is an RRID?") Deleted facilities will not show up in search results.