Managing the Contact People Setting
Contact People on a Facility Profile have been reworked to offer more flexibility and more options regarding contact preferences.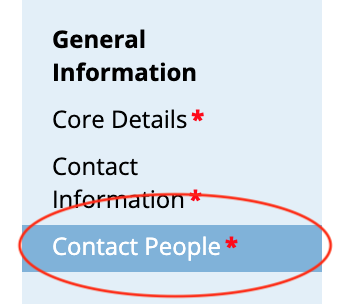 Where as prior to this feature there were six static roles that could be used as contact information, Contact People now gives you an unlimited number you can attach to your profile. Also each person can be assigned any role, allowing for multiple Primary Contacts, multiple Editing Contacts, etc.
Editing Contacts on your Profile.
Under the "Contact People" section you will see the controls for contacts. By default, the Primary Contact record is created with each new facility but you can alter this record however you like.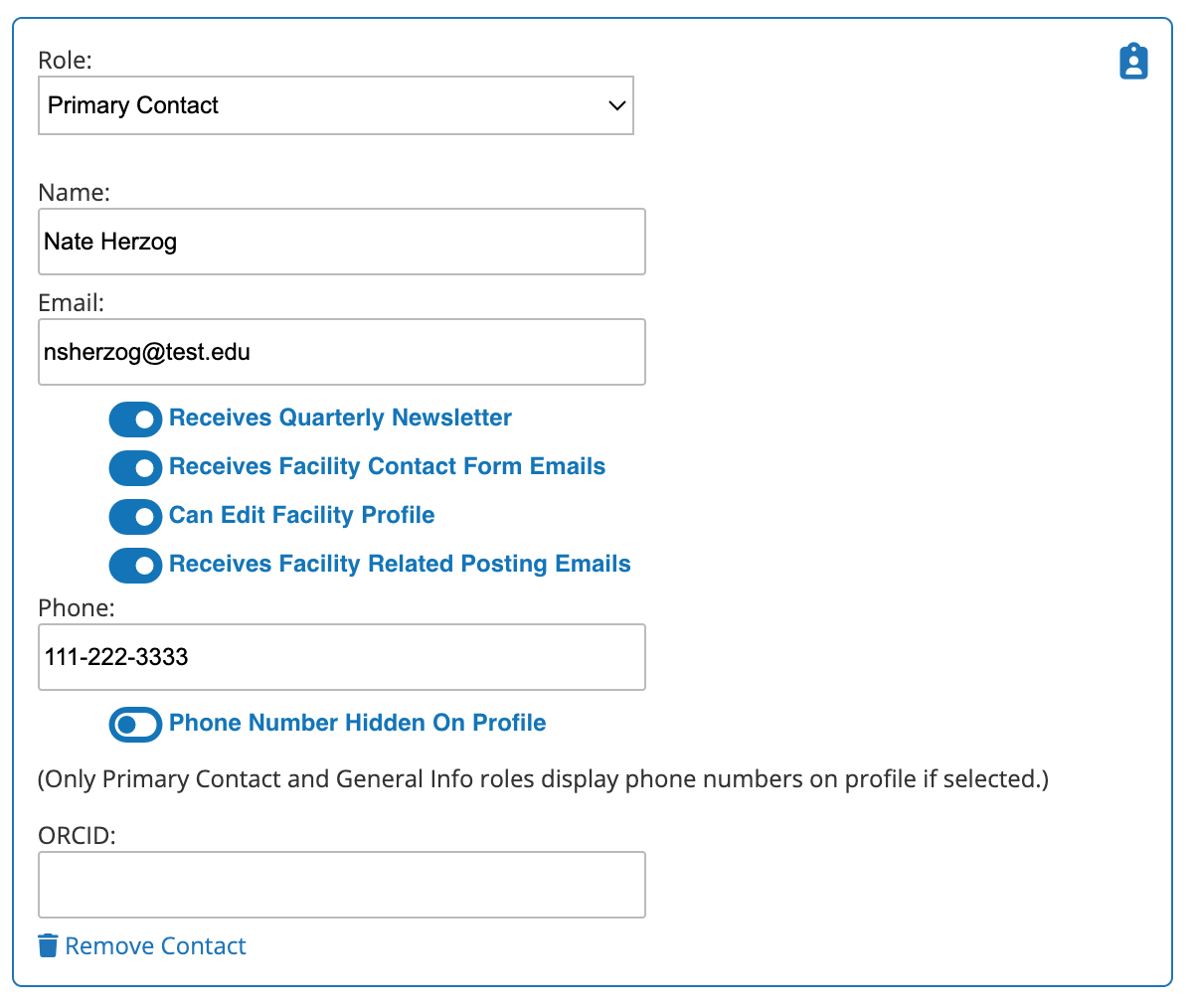 Each contact record contains multiple toggle preferences for managing access to the profile and what email communications they can receive from the CoreMarketplace in general and from this profile specifically.
Adding New Contacts to your Profile.
To add a new contact to your profile, click the "Add Person to Facility" button at top.

Select the role from the menu.
Start typing the name.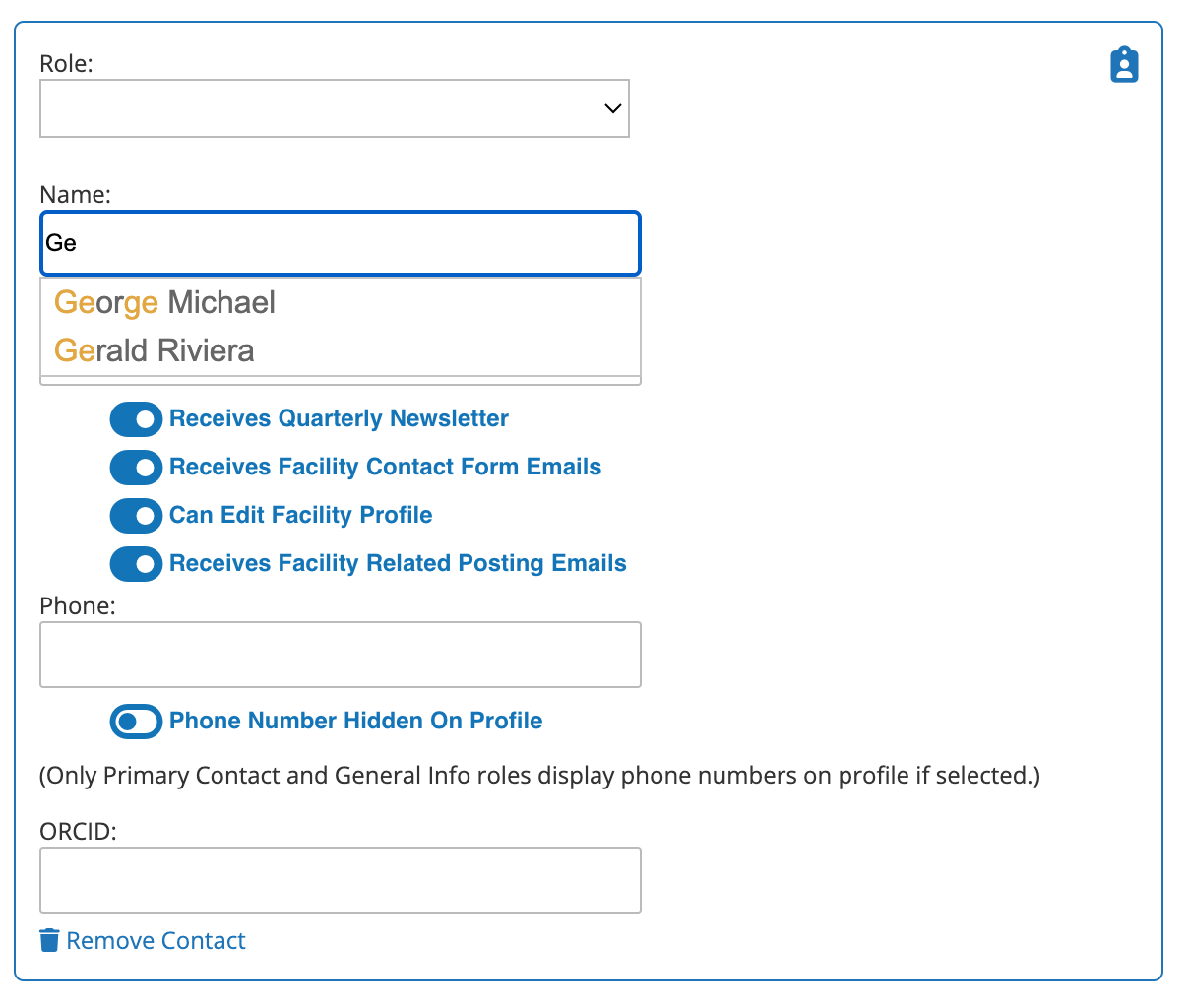 If a name has already been added to this profile or any profile in your institution, that person and their general preferences are remembered and available. Select the name and their data is populated to the record.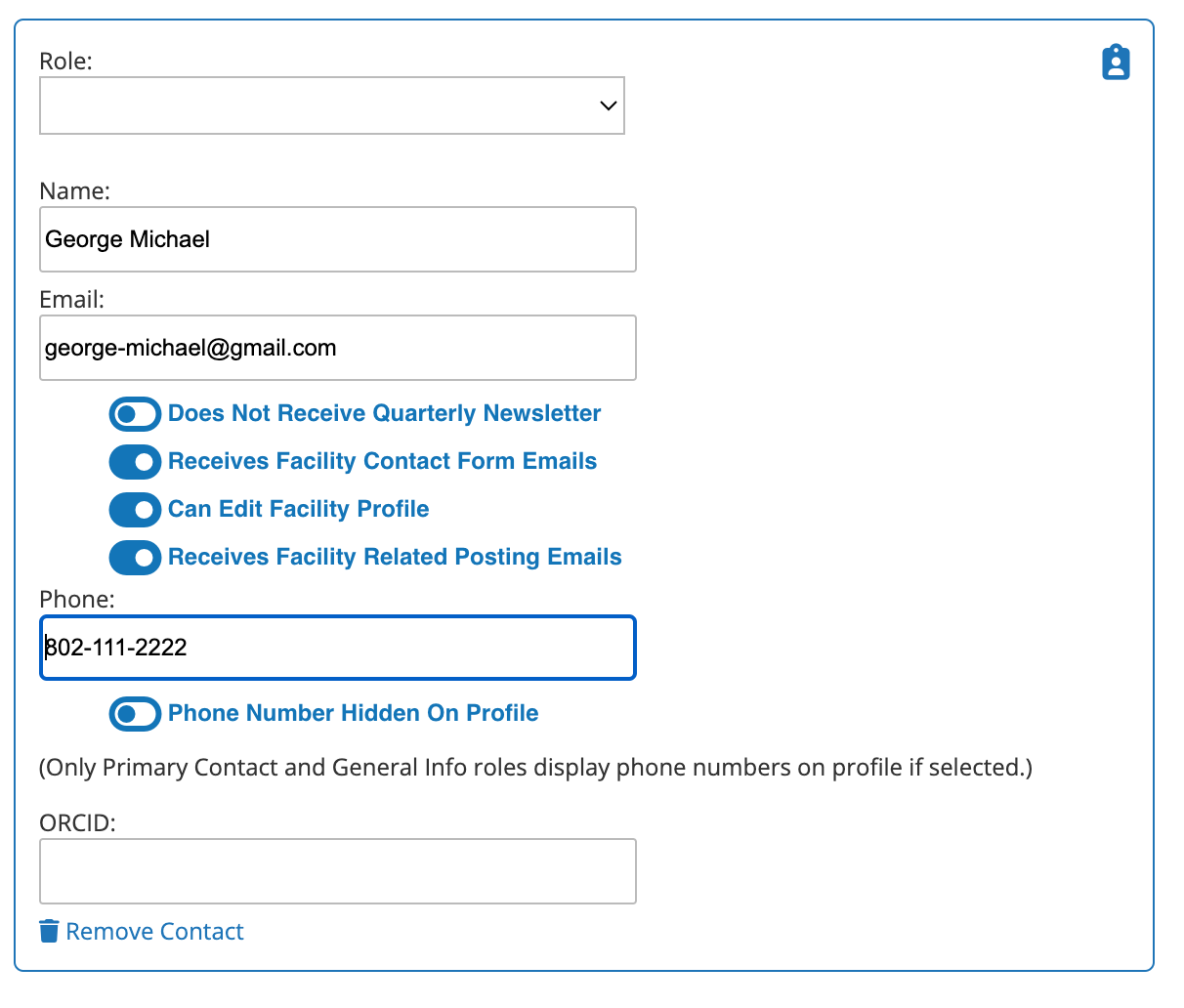 Some information still has to be assigned (like the Role if you haven't already) or defaults to "Yes" because that information is profile specific. Contact preferences for one facility may not be true for another facility.
Select the contact preferences for this person.
Fill in the phone number (optional)
NOTE: While there's the option to turn off phone number display on facility profiles, the only two Roles that actually will display a phone number publicly are the Primary Contact and General Info roles.
Fill in the ORCID for this person.
The ORCID is useful for connecting a person to the facility RRID in an ORCID profile. Future ORCID functionality in the CoreMarketplace will be forthcoming so it's a good idea to get the ORCID in place now.
Editing General Contact Information
Some information is central to the person and not profile specific. That information is:
The person's name
The person's email address
The person's phone
Whether the person wants to receive the newsletter.
The person's ORCID.
Because this information is central to the person, if you change any of these options on one record, it will change it on every profile that person is attached to. This is done for convenience (so you don't have 15 different person records scattered across multiple facility profiles) but it is something to keep aware of should you believe you are only affecting one profile.
Removing Contacts
To remove a contact from a profile, click the "Remove Contact" at the bottom of that person's entry area.

This will detach this person from this facility, but it will not remove them from other facility profiles. Their general information will be retained in case they want to be added to a different facility profile, i.e. they have chosen to work in a different core facility.
Contact Preferences
Here's what the individual contact preferences mean:
"Receives the Quarterly Newsletter" If active, this email will be included when the CoreMarketplace newsletter is sent out.
"Receives Facility Contact Form Emails" If active, this email will receive any messages sent through the facility contact form.
"Can Edit Facility Profile" If active, this email will be able to receive the edit link and edit this profile. They will also receive all messages regarding facility edits, such as Email Core Information and notifications if the profile is removed from the CM. If your profile does not include at least one contact that has edit capabilities, no one will be able to edit this profile.
"Receives Facility Related Posting Emails" If active, this email will receive any messages related to Posting requests that match your facilities capabilities.
Contact Roles
These are the roles that are available:
"Primary Contact" This is the director, manager, or whichever person is in charge of the facility. There may be more than one.
"Editing Contact" This is a person who is in charge of updating the facility profile. NOTE: It is possible to have an Editing Contact that does not have editing capabilities enabled. It's a little weird, but it's possible.
"General Info" This is a catch all role, used if a facility has a email or phone that is shared by many. Perhaps good for receiving facility contact messages, perhaps not so good for receiving newsletters.
"Center Director" If your facility has multiple research centers, this is the role that heads up your specific center. Sometimes they want to be in the loop. Sometimes not.
"Institution Director" Typically the VP of Research for your institution. Again, their interest in specific cores may vary.
Notes on Using Contacts
You don't need the same contact in multiple roles. The contact preferences in each record cover the full capabilities of any individual contact.
Don't double up multiple email addresses in one contact record. Instead create one contact record for each email address. Remember multiple contacts can be assigned the same role.
The initial import created some funny name records for the Editing Contacts and the General Info contacts. We used the facility name to differentiate that record from other similar records within the same institution. You don't have to keep this name. In fact if the email used already has a contact record, you can enter that person's name instead.